Ebooks are now available for some of John's titles. Links to where they can be purchased are one the individual book pages and here.
The titles that are avaialbe are Bogus Science, Discarded Sceince, Corrupt Sceince, Earthdoom, Take No Prisoners, The Far Enough Window, Has Anyone Here Seen Kristie?, Qinmeartha & The Girl Child LoChi, The Life Business, Warm Words & Otherwise: A Blizzard of Book Reviews, All The Little Gods We Are and Legends of Lone Wolf - Omnibus 1.
---
Denying Science Sold to Prometheus Books
John is pleased to announce the sale of the world rights of the new book Denying Science to Dr. Mark Hall at Prometheus.
Denying Science is the fourth in Grant's explorations of science and culture (following 2006's Discarded Science, 2007's Corrupted Science and 2009's Bogus Science), and is scheduled for publication in Spring 2011.
Although we like to believe we're living in a scientific age, our culture has in recent decades been characterized by a widespread antagonism toward science and the not always welcome messages it brings. Among countless other examples:
• warnings of imminent and potentially catastrophic climate change are depicted as a global conspiracy by the New World Order
• vaccinations are widely blamed for causing autism despite there being not a shred of evidence to support this claim and a plethora to indicate it's a fallacy
• because he and Alfred Russel Wallace recognized the principle of evolution by natural selection, Charles Darwin is directly blamed for Auschwitz
• much research has demonstrated that abstinence education is a worthless method of reducing teenage pregnancies and STDs, yet government funds continue to be poured into it
This denial of scientific evidence, or even of the competence of science as a descriptor of the real world – a denial of reality, in short – is a phenomenon that no one seriously predicted outside the pages of satire.
It is clearly in large part inspired by fear of a dangerous world. But it is also fomented, through use of powerful publicity machines and very large sums of money, by short-termists in the corporate and political worlds who have difficulty seeing beyond the next quarter's profits: most of us are unaware of the extent to which our attitudes and our perceptions of reality are being manipulated by these covert operations. Broad sections of the mainstream media actively connive in the disinformation effort. And for almost all of us it is impossible to keep track of all – or even a small fraction of – the science-denying activities being carried out by governments in our name.
John Grant says, "I couldn't be more pleased that Denying Science has brought me to Prometheus, with that company's long and illustrious tradition of promoting rationalism and fighting back against pseudoscience."
Mark Hall says, "I'm delighted to welcome the highly creative, multitalented writer John Grant to our growing list of distinguished Prometheus authors. Denying Science is a very exciting project and could not be more timely."
Hot off the press!

John's newest non-fiction book, Bogus Science - the third in a series, following the hugely successful Discarded Science and Corrupted Science - has arrived! He now turns his attention to "ideas that fool some of the people all of the time". In Bogus Science the concern is far more with the stuff that walks vaguely like science, quacks vaguely like science, but in fact isn't science at all: it's bogus science, or pseudoscience.
The book is available for purchase through the publisher or the usual outlets.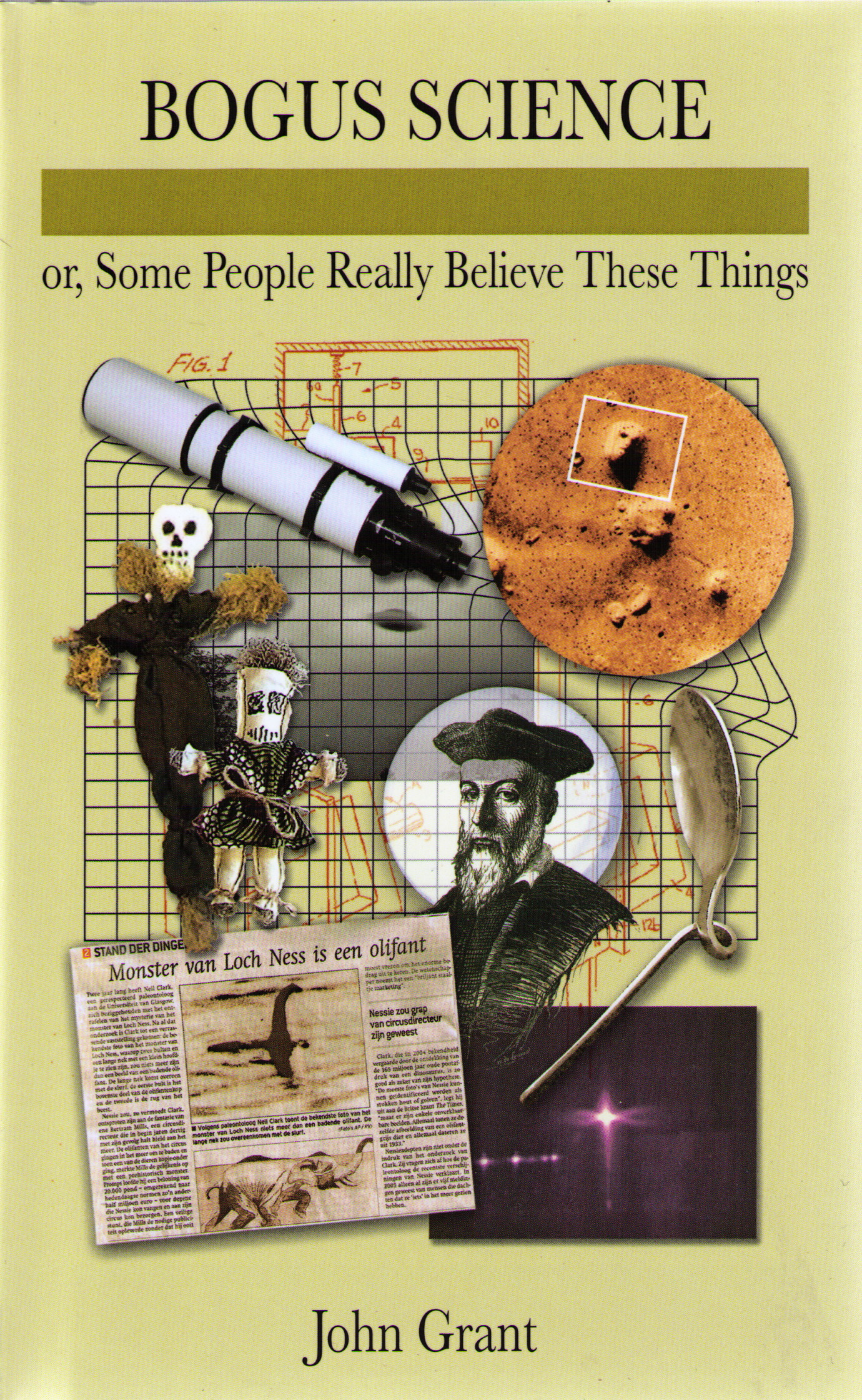 Norilana Books has just published John's LEAVING FORTUSA, a mind-blowing dystopian novel in ten episodes of the future of humanity.
It can be purchased through the Norilana site.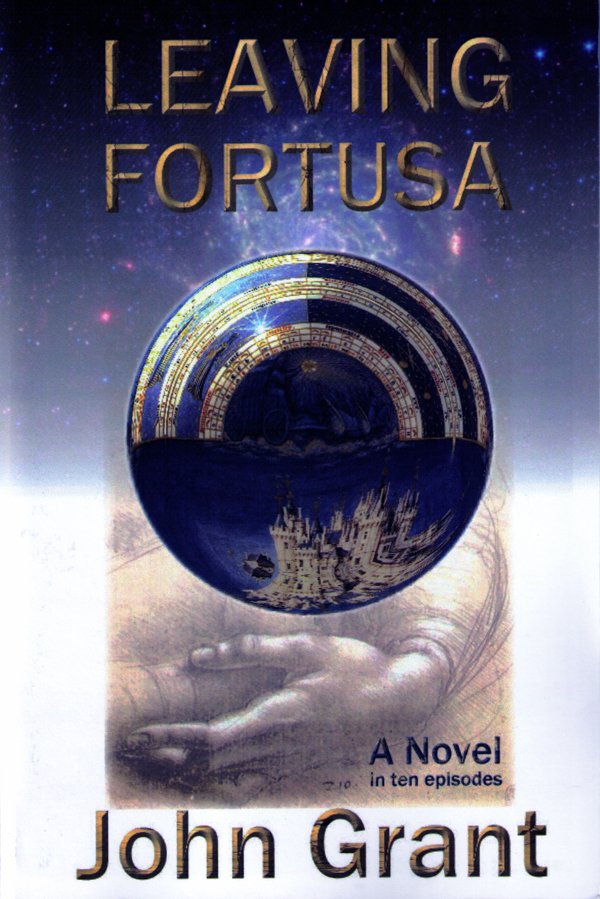 The Dragons of Manhattan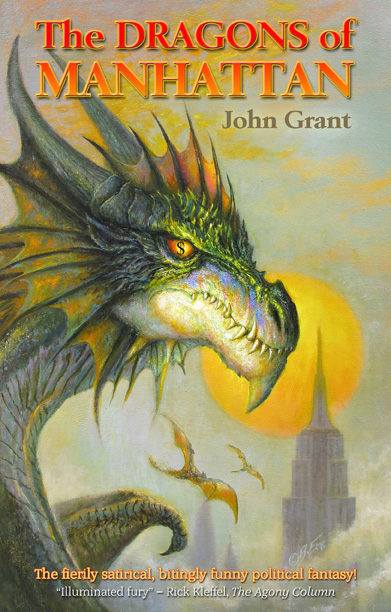 Signed copies can be orordered from John
• As you may know, Thog the Mighty under went the surgeon's knife in June. We both thank you all for the cards, letters and email that we received. Reading his mail was a bright spot of his mornings during the hospital imprisonment. He is now home, healing and very thankful that his early mornings no longer include visits from hospital staff (the pseudo-Vampires) with needles in hand.
• John recently sold a story to Des Lewis for the imminently forthcoming anthology Cone Zero, otherwise known as Nemonymous 8 -- it being the eighth in Des's highly successful Nemonymous series.
For those unfamiliar with the series, the Nemonymous principle is that, although there's a random-order list of their names on the back, the authors of individual stories aren't identified in the book, so that the work is left to speak for itself sans reader preconceptions based on the author's name and/or repute. The listing of stories-with-authors for Nemonymous 8 will be given in Nemonymous 9 and, around the time of publication of the latter, in various places online. Here is a sneak peak of the cover.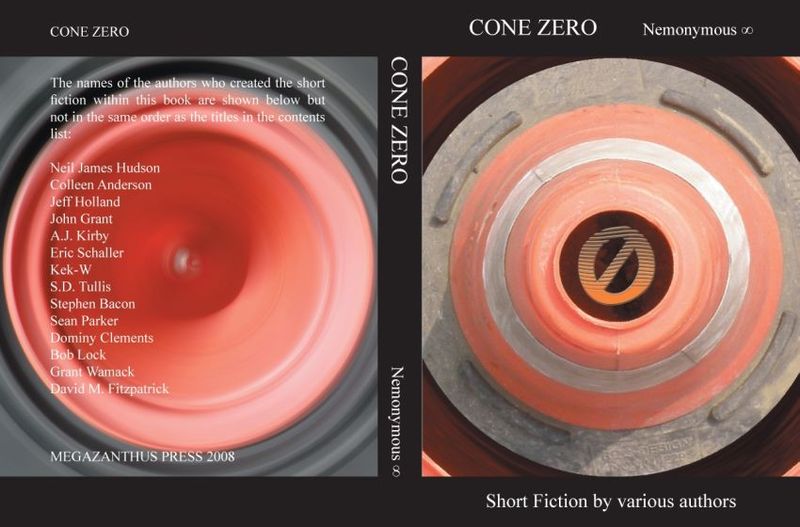 • The novella The City in These Pages has been sold to PS Publishing; for standalone publication, in the Spring of 2008. Watch this space for further details. Here is a sneak peek of the cover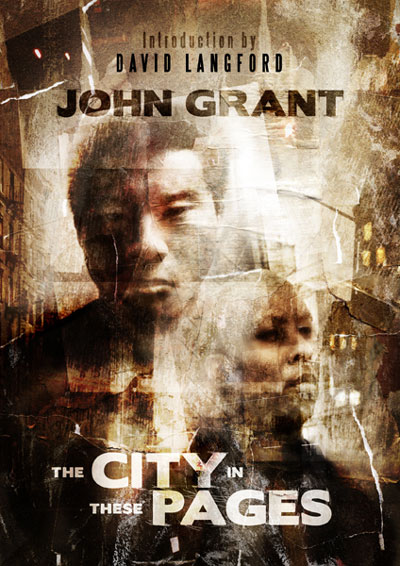 • John's latest non-fiction books Corrupted Science and Discarded Science are available
for purchase. Copies can be purchased through AAPPL's website. (They have a few signed copies: ask.) It can also be found on Amazon.com or at Barnes and Noble.
• Ellen Datlow's anthology Inferno, published by Tor, contains John's short story "Lives". The reviews are stellar.
• And the noir novelette "Will the Real Veronica LeBarr Please Stand Down?" ("the best
thing I've ever done!" John claims) has sold to Postscripts magazine. It will appear in issue number 16, due out before the end of the year.
• The short sf/horror story "Citizen Cain" has sold to Steve Upham for the anthology Dead Ends, to be published this Spring by Screaming Dreams.
• The long fantasy story "The Beach of the Drowned" has sold to Dave Hutchinson for the anthology New Writings in the Fantastic 2, to be published next year by Pendragon Press.
• The fantasy story "All the Little Gods We Are" has sold to Mike Allen for the anthology Clockwork Phoenix, to be published by Norilana Books this Summer. Here is a sneak peak of the cover. Here is a sneak peak ef the cover.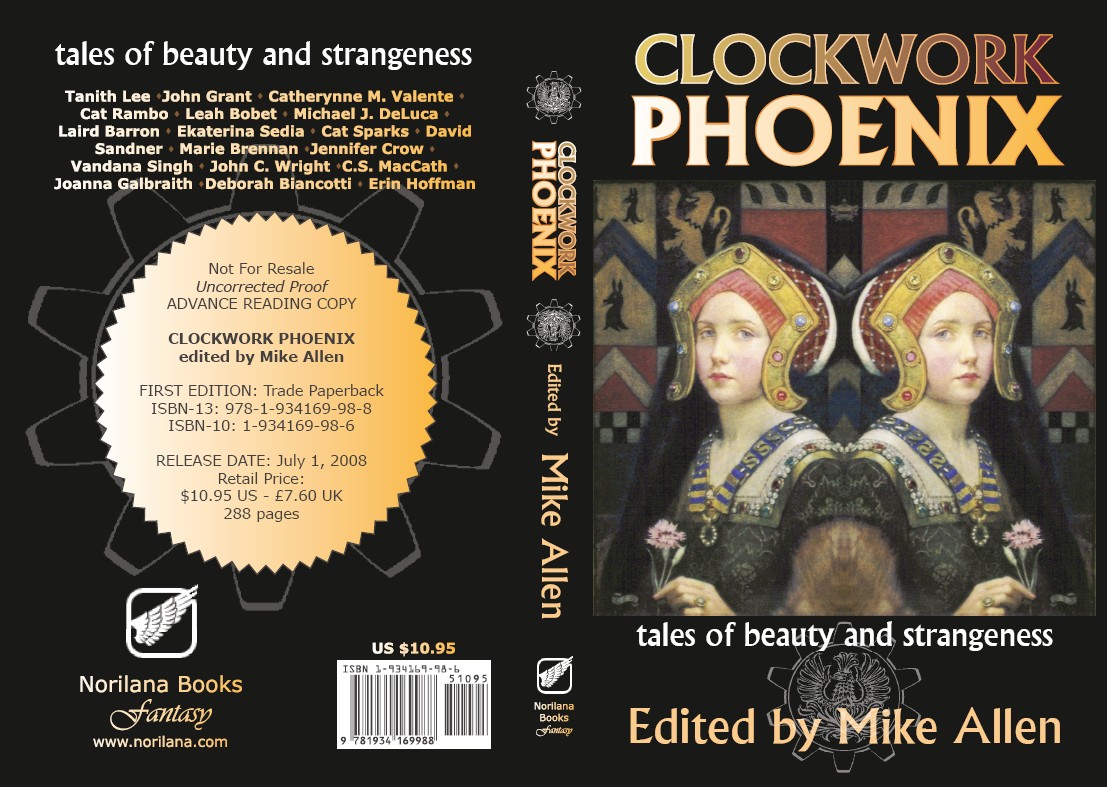 • The first John Grant story collection, Take No Prisoners, has been receiving stellar reviews. Buy it in John's Store
• Read John's blog at Live Journal. Feel free to join in!