to the official website of the award-winning writer and editor, born in Aberdeen, Scotland, but now resident in New Jersey, USA.
John Grant is author of some seventy books, of which about twenty-five are fiction, including novels like The World, The Hundredfold Problem, The Far-Enough Window and most recently (2008) The Dragons of Manhattan and Leaving Fortusa. His "book-length fiction" Dragonhenge, illustrated by Bob Eggleton, was shortlisted for a Hugo Award in 2003; its successor was The Stardragons. His first story collection, Take No Prisoners, appeared in 2004. His anthology New Writings in the Fantastic was shortlisted for a British Fantasy Award. His novella The City in These Pages has recently appeared from PS Publishing.
In nonfiction, he coedited with John Clute The Encyclopedia of Fantasy and wrote in their entirety all three editions of The Encyclopedia of Walt Disney's Animated Characters; both encyclopedias are standard reference works in their field. Among his latest nonfictions have been Discarded Science, Corrupted Science and, in Fall 2009, Bogus Science. This year he finished writing an encyclopedia of film noir (see below), and he's currently working on a book about femmes fatales, a young adult guide to bullshit, and "a cute illustrated rhyming book for kids about a velociraptor".
As John Grant he has received two Hugo Awards, the World Fantasy Award, the Locus Award, and a number of other international literary awards. Under his real name, Paul Barnett, he has written a few books (like the space operas Strider's Galaxy and Strider's Universe) and for a number of years ran the world-famous fantasy-artbook imprint Paper Tiger, for this work earning a Chesley Award and a nomination for the World Fantasy Award.
New This Fall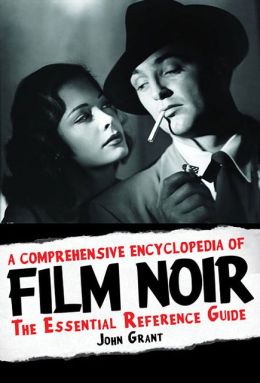 Featuring rumpled PIs, shyster lawyers, corrupt politicians, double-crossers, femmes fatales, and, of course, losers who find themselves down on their luck yet again, film noir is a perennially popular cinematic genre. This extensive encyclopedia describes movies from noir's earliest days and even before, looking at some of noir's ancestors in US and European cinema as well as noir's more recent offshoots, from neonoirs to erotic thrillers. Entries are arranged alphabetically, covering movies from all over the world from every continent save Antarctica with briefer details provided for several hundred additional movies within those entries. A copious appendix contains filmographies of prominent directors, actors, and writers. With coverage of blockbusters and program fillers from
Going Straight
(US 1916) to
Broken City
(US 2013)
via Nora Inu
(Japan 1949),
O Anthropos tou Trainou
(Greece 1958),
El Less Wal Kilab
(Egypt 1962),
Reportaje a la Muerte
(Peru 1993),
Zift
(Bulgaria 2008), and thousands more,
A Comprehensive Encyclopedia of Film Noir
, the largest film noir encyclopedia ever written and with the broadest range of coverage, is an engrossing and essential reference work that should be on the shelves of every cinephile.
Read more...
A Comprenhensive Encyclopedia of Film Noir - The Essential Reference Guide
can be pre-ordered through:
Amazon, Powells, Barnes & Noble
An all-original anthology from PS Publishing featuring John's "Memoryville Blues" as the title story. It will be available this fall.
Our family supports: